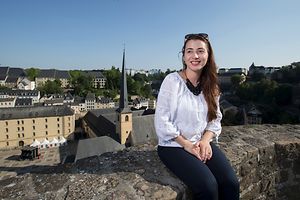 Romanian national Roxana Mironescu joined her sister in Luxembourg in 2012 after completing her studies in Aberdeen. She has since worked for the local media and is now pursuing a communications degree at the University of Luxembourg in the country she now calls home.
What brought you to Luxembourg?
I moved to Luxembourg from Scotland after finishing my Bachelor studies in journalism, attracted by its central location in Europe and its great multicultural and multilingual character.
One year before relocating, I travelled to Luxembourg to visit my sister and really liked the calm and cosy atmosphere defining the city.
From a professional perspective, I knew that Luxembourg had many stories to offer, therefore the journalist in me was eager to give them a voice and spread the word as much as possible.
What helped you get settled in Luxembourg?
Right from the beginning, I started being active in the international community.
Funny enough, the first person I met in Luxembourg after leaving Aberdeen was a lovely Scottish expat, Lisa McLean, who offered me an internship at Ara City Radio. Through this opportunity, I gained access to many events and communities and got to meet a lot of inspiring people who became my friends and in some cases highly valuable professional connections.
What do you like most about Luxembourg?
I love the fact that Luxembourgers are genuinely in love with their country and always take pride in their little Grand Duchy. Although it's difficult to handle at times, especially for people from monolingual countries, Luxembourg's multilingualism is also a great asset and makes one feel like living in a true global(ised) city.
If you could change one thing about Luxembourg, what would it be?
Better communication between Luxembourgers and non-Luxembourgers. Most foreigners living in Luxembourg find it very difficult at the beginning to meet Luxembourgers, but once they do, long-term friendships, viable professional partnerships and sometimes nice love stories unfold.
Also, as a general rule, I wish people were more open-minded in their approach to others and their different lifestyles. So many stereotypes, so many misunderstandings and so little time to properly meet people and cultures.
Like many expats, I would love to go shopping on Sundays and would appreciate a better customer service in some contexts. Also on my wish list is an outdoor swimming pool in Luxembourg-City. Imagine the fun, celebrating Luxembourg National Day at a pool party in Clausen or the Grund.
What tips would you give new arrivals?
It's up to you to make Luxembourg your city. Irrespective of your professional background, nationality or intention to spend one year or a lifetime in Luxembourg, try to be active, stay informed, network as much as you can and always show an interest in meeting other people.
Also, knowing a few words of Luxembourgish always makes a nice impression. In fact, learn all the languages that you can while living here and expand your horizon through as many activities as possible in 24 hours. This way, Luxembourg can be a life-changing experience, staying in your heart no matter if you settle in or continue the journey to some other fascinating places in the world.
An interview published on Wort English at the end of July 2015.