November 19, 2014 marked the first Women's Entrepreneurship Day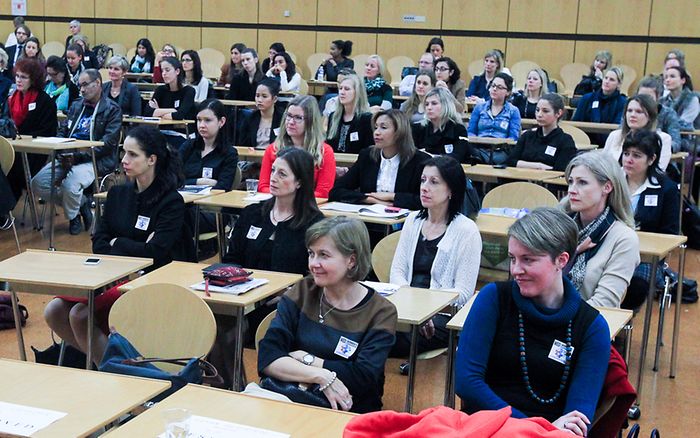 Some 100 local entrepreneurs, professionals as well as students headed to the University of Luxembourg's SnT Centre on Wednesday night to celebrate Women's Entrepreneurship Day (WED) in the Grand Duchy.
At the initiative of Kasia Kolodzieczyk, local entrepreneur and ambassador for Women's Entrepreneurship Day in Luxembourg, the event put under the spotlight a number of successful women who have embarked on an entrepreneurial career and are successfully running their businesses.
Opening WED Luxembourg, Ms. Marjut Santoni, Deputy Chief Executive at the European Investment Fund, addressed the audience on the night, pointing out that although traditional stereotypes have been challenged and the roles of women and men has changed, it is still difficult for women to prove their abilities.
Having the right support
In her speech, Ms. Santoni also mentioned the importance for new entrepreneurs to have the right support and highlighted that the European Investment Bank and Fund help women entrepreneurs to pursue their professional dreams.
A number of local and international female panelists also shared their views on entrepreneurship and success in Luxembourg, including Aude Lomogne, Founder and Director of Link Management, Dorothea Bekker, Online Media Consultant and Entrepreneur Coach at the Dot Effect, Genna Elvin, founder of TaDaweb, but also Luxembourg-born fashion designer Feyrouz Ashoura, founder of recruitment agency Funds Partnership Rana Hein-Hartmann, and Dr. Patrice Caire, Research Associate at Luxembourg's SnT centre.
During the event, the panel discussion, which was moderated by Amy Rose, Senior Counsel Litigation at Altisource, touched on important aspects for both women and men to consider before becoming entrepreneurs, such as life-work balance, the challenges and perks of launching a start-up, the existence of business angels, the use of technology to optimise sales and increase brand visibility, leadership, timing, mindsets and motivation.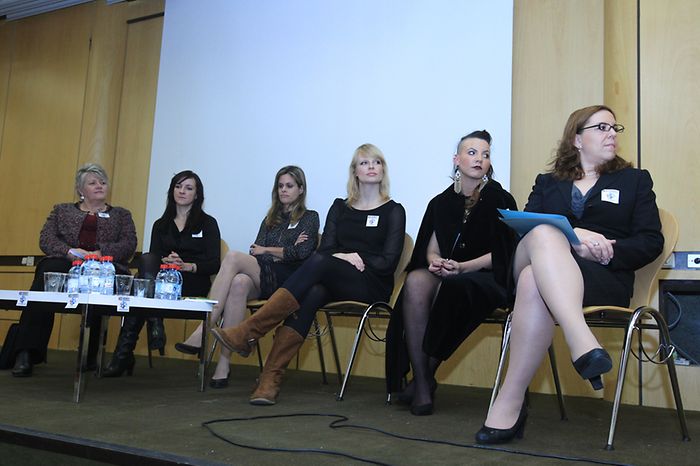 Gender minority can be an advantage in business
A former trader in New York, Paris and London, Luxembourg-born Aude Lomogne told the audience that being a minority in a male oriented environment can sometimes be to a woman's advantage.
Panelist Genna Elvin also pointed out that women think differently and therefore bring a distinct perspective to the table and to senior management, while Rana Hein-Hartmann suggested that often women are not able or willing to go up the ranking at particular times throughout their careers.
Elvin also confessed that many people link power and seniority in business with males. ''Just because I was in a position of power, people thought that I was a man. I received countless emails starting with Mr. Elvin rather than Ms. Elvin."
More women in senior positions
 On a positive note, Rana Hein-Hartman stated that in the past 12 months there has been a clear trend to hire women in senior positions in Luxembourg and Europe.
Dr. Patrice Caire added that entrepreneurship can also entail failure which is not seen as positive in Europe. ''In the US failure makes a positive story. It is also a matter of culture.''
Attending the event on the night, local trainer and ProActive founder Dana Moldoveanu was inspired by the panelists' life stories, work philosophy and motivation to be independent. ''It was a choice for them to be entrepreneurs because it was giving them the opportunity to be the masters of their time and to also do something that they were passionate about.''
An event to motivate, inspire and advise
Aiming to motivate, inspire and advise the public in Luxembourg, the event put the Grand Duchy on the map along with many other countries that celebrated Women's Entrepreneurship Day and was the result of teamwork between volunteers, GenCreo founders and the University of Luxembourg.
''I always meet fantastic people for my work. This time I really wanted to bring them together, to show that they are role models and that they achieved so much in their lives, " concluded Kasia Kolodzieczyk.
WED Luxembourg ended with a Q&A session, followed by informal networking.
Women's Entrepreneurship Day was launched by US entrepreneur Wendy Diamond as a global movement that celebrates, supports and empowers female entrepreneurs in the world and will be celebrated every year on November 19.
More information on the initiative is available on womenseday.org.
An article signed by Roxana Mironescu and published on November 20, 2014 on Wort English.